JKBOSE National Means Cum Merit Scholarship Scheme (NMMS) 2021-22 Extension Notificaion.
Background: The 'National Means-cum-Merit Scholarship Scheme' (NMMSS) is a Central Sector Scheme launched in May, 2008 to provide scholarships for meritorious students of classes IX to XII.
Objective: To award scholarships to meritorious students of economically weaker sections to arrest their drop out at class VIII and encourage them to continue their study and complete secondary stage.
Also Read: Tata Scholarship 2022 – Application Form, Last Date & Eligibility
Coverage: The scheme envisages award of one lakh fresh scholarships every year to selected students of class IX and their continuation/renewal in classes X to XII for study in a State Government, Government-aided and Local body schools under the scheme.
Scholarship Amount: An amount of Rs. 12000/- per student per annum. The rate of scholarship has been enhanced from Rs. 6000/- to Rs. 12000/- per year with effect from 1st April, 2017.
Download Application Form for 2021-22 ——————CLICK HERE
The last dates of the JKBOSE NMMS 2021-22 has been extended.
Extension Notification regarding NMMS 2021-22.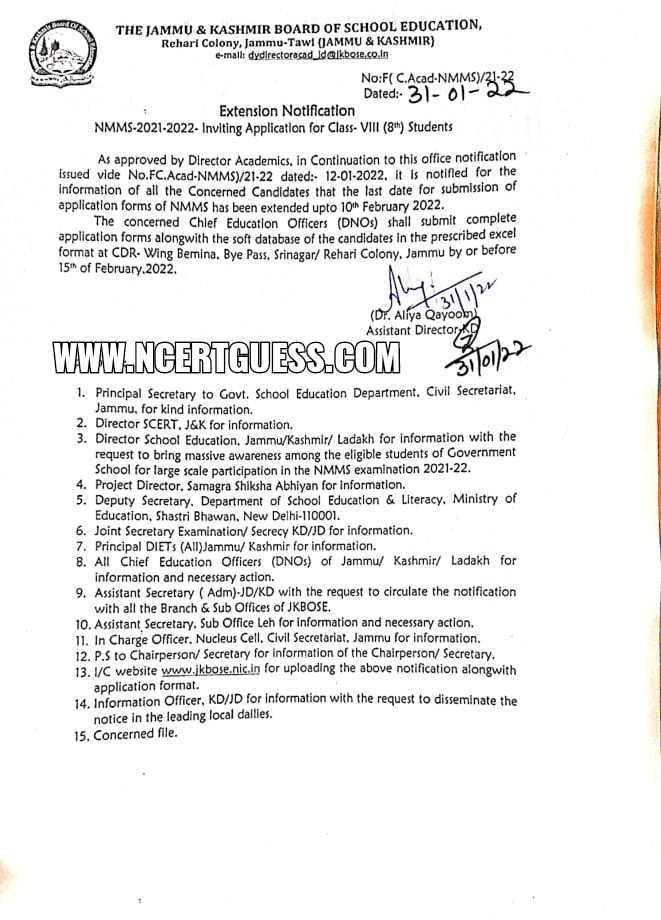 Also Read: British Council Announces STEM Scholarships For 2022