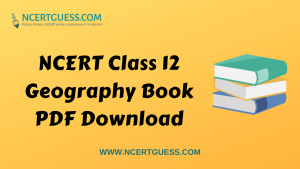 NCERT Class 12th Geography Book PDF Download in English and Hindi Medium
NCERT Class 12th Geography Books are provided in PDF form so that students can access it at any time anywhere. Class 12 NCERT Geography Books are created by the best professors who are experts in Geography and have good knowledge in the subject.
Fundamentals Of Human Geography NCERT Geography Book Class 12 PDF in English Medium
Class 12 NCERT Fundamentals of Human Geography Book PDF Download
Class 12 NCERT Practical Work in Geography Part II Book PDF Download
Class 12 NCERT India People And Economy
NCERT Class 12 Manav Bhugol Ke Mool Sidhant Book in Hindi
इकाई-1
इकाई-2
इकाई-3
इकाई-4
NCERT Class 12 Bhugol main pryogatmak karye Book in Hindi
NCERT Class 12 Bharat log aur arthvyasastha (Bhugol) Book in Hindi
इकाई I
1. जनसंख्या: वितरण, घनत्व, वृद्धि और संघटन
2. प्रवास: प्रकार, कारण और परिणाम
3. मानव विकास
इकाई II
इकाई III
5. भूसंसाधन तथा कृषि
6. जल-संसाधन
7. खनिज तथा ऊर्जा संसाधन
8. निर्माण उद्योग
9. भारत के संदर्भ में नियोजन और सततपोषणीय विकास
इकाई IV
10. परिवहन तथा संचार
11. अंतर्राष्ट्रीय व्यापार
इकाई V
12. भौगोलिक परिप्रेक्ष्य में चयनित कुछ मुद्दे एवं समस्याएँ
The NCERT syllabus mainly focuses on this book to make it student-friendly to make it useful for both the students and the competitive exam aspirants. The book covers a detailed Geography based on the syllabuses of various boards. NCERT Geography Books for Class 12 is perfectly compatible with almost every Indian education state and central board.
We hope that this detailed article on NCERT Class 12 Geography Books helps you in your preparation and you crack the Class 12 exams or competitive exams with excellent scores. For your convenience, you can download PDFs of books and structure your study plan ahead. You should focus more on practicing previous year question papers too as this will further assist you in understanding the frequency of questions.